Adventure and Sports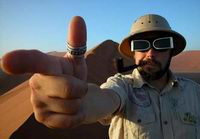 Madventures http://www.stranded.to/madventures/index.php Finnish language Madventuresissa nuoret toimittajat Riku Rantala ja Tuomas Milonoff matkustivat maailman ympäri kahdeksassa kuukaudessa pienellä budjetilla. http://www.subtv.fi/madventures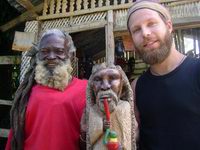 Space Adventures - http://www.spaceadventures.com
Space, and space-related adventure travel and tourism: from space camps and astronaut training to actual flights into space.
Evolution 2 - http://www.evolution2.com
Adventures schools located in Tignes, Val d'Isere, Montchavin La Plagne, Chamonix, La Rosiere, Cote d'Azur and Pays Basque. Skiing, canyoning, rafting, tubing. Free brochures. In English and French.
TrekAmerica Adventure Travel and Tours - http://www.trekamerica.com/
Camping
KOA Kampgrounds - http://www.koa.com/
Trip planner, fuel calculator, directory of Kampground of America Kampgrounds in the United States, Canada, Mexico, and Japan, and information on other KOA services.
African American Campers - http://www.africanamericancampers.com
Public Lands Information Center - http://www.publiclands.org/
Not-for-profit organization affiliated with USDA Forest Service and Bureau of Land Management. Offers resources for maps, guides, passes, permits, and recreation information for state and federal lands.
UK Camp Site - http://www.ukcampsite.co.uk/
Message board, camping tips, rally and events calendar, and free ads. Also offers searchable database of caravan and campsites throughout the United Kingdom, some with reviews by users.
Family Camping Magazine - http://www.familycampingmagazine.com
A magazine for the family camper.
Outdoor Action Guide to Winter Camping - http://www.princeton.edu/~oa/winter/wintcamp.shtml
Article by Rick Curtis provides information on trip planning, clothing, winter travel, and winter back-country skills.
The Camping Source - http://www.thecampingsource.com/
Campground listings for US and Canada, recipes, classified ads, and links to camping related sites.
Camping with Backtrack - http://pweb.jps.net/~roamer/camping.html
Tips, tricks, suggestions and personal experiences. Users can print a camp inventory list and read and submit camp stories .
Camel and Elephant Safaris
Explore the Outback Camel Safaris - http://www.austcamel.com.au/explore.htm
Exploratory camel treks and tours into the pristine central deserts near Lake Eyre in outback Australia.
Worldwide
Travel iExplore - http://www.traveliexplore.com/
Explore information about adventure tours around the world - search for trips, talk to adventure travel experts or read traveler reviews.
Mountain Travel * Sobek - http://www.mtsobek.com/
Safaris, trekking, paddlesports - we've got it all: come and explore with us.
Uncommon Adventures - Dive and Adventure Travel - http://www.uncommonadventures.com/
Experts in Travel and vacations to Remote Corners of the World, South Pacific, Africa, Asia, Central and South America, Indian Ocean, Micronesia.
Go Remote Adventures - http://www.goremote.net
Escorted adventures to tropical areas; Papua New Guinea, Australia, Central America for ballooning, paddling, Mayan ruins, diving, snorkelling and backpack. Adults only.
Fishing
OldMaster85 - http://www.oldmaster85.com
Ask fishing related questions, get tips, photos and related links.
Allexperts.com: Fishing Questions and Answers - http://www.allexperts.com/getExpert.asp?Category=1634
Volunteer experts answer your detailed one on one questions about places to fish, and how to tips and guidance.
FKP Fishing.net - http://www.fkpfishing.net
The Floattube, Kickboat and Kayak Fishing Network.
Sailing
About.com: Sailing - http://sailing.about.com
Resource of sailing articles and links.
Cruiser Log - http://www.cruiser.co.za
Cruising yachts around the world. Yacht positions, sailing narratives, m/m radio nets, crew finder, forum, classifieds, cruising books, weather and cruising links.
Searoom - http://www.searoom.com/index.html
All about coastal, offshore and bluewater yachting. Forum discussions. Free classified ads.
Sailing News - Topix.net - http://www.topix.net/sailing
News on sailing continually updated from thousands of sources around the net.
Noonsite - http://www.noonsite.com/
Features essential information to sailors planning an offshore voyage including information on clearance formalities, visa requirements, fees, weather, special events and other facts needed by visiting sailors. Also listed are repair facilities and marine and shore services.
Mark Rosenstein's Sailing Page - http://www.apparent-wind.com/sailing-page.html
Collection sailing information with a bent toward Tall Ships and Maritime History.